Maybe's Page

June 18, 2008

September 3, 2008: Holy Spamoni Cakes is 11 weeks old today! Wow, time flies when you're changing diapers all day long. Mabes is doing great. She's holding her head up and smiles and coos. She is sleeping 9 hours a night. She had her two month check up a week and a half ago. She weighed 13 lbs. 10 oz. and was 24 1/2 inches long. 95% for both categories. She is easily fitting into six month clothes. We call her our little tank. She had her two month shots and did pretty good. She cried for a good five minutes and was really clingy for the rest of the day. She's pretty content as long as she's fed, her diapers changed, and she's not sleepy. She has her daddy wrapped around her little finger already. We are so glad she's here with us!

August 16, 2008: Maybe is 8 weeks old. She has actually slept through the night a few nights which means I'm getting lots and lots of rest which is really nice. She's just busy growing. I'll have more exciting news when I go to her two month check up in a week or so. I am really curious to see how much she weighs now because she has sure chunked up since birth. She's a super duper cutie and I'm glad she's all ours.

Click on a picture to embiggen it.

August 9, 2008: So I guess I haven't been very good at keeping a log of Maybe Cakes' life. Oh well, I guess that's what happens when you have two babies at home. Maybe is definately growing up quickly. She's 7 weeks already. She's pretty much holding her head up on her own, smiling, and cooing. Those are some big accomplishments for a tyke her age. She's beautiful and I can't imagine what our family was like before she came. Along with not journaling about her life I realize that we don't take very many photos of her. Again, oh well. It does make it hard to post many pictures of her. She's a pretty mild tempered baby. She loves her brother as much as he loves her. You can just tell by the way she looks at him. She only wakes up once or twice a night which is a huge blessing for me. I need my sleep. She definately likes to be held by anyone at the moment. She's a good car rider and not a good napper so there have been many afternoon drives with the kids because she does fall asleep in the car. Yes, it's an expensive way to get a nap in but it is much needed for my sanity. She is just so wonderful and I have no regrets that we decided to have her so quickly after Seth. We blessed Maybe on Sunday. She didn't make a peep. We had lots and lots of family there to support us. It was very nice.

Click on a picture to embiggen it.

Click on a picture to embiggen it.

June 19, 2008: She's here! Maybe Summer Johnson was born on June 18th, weighing in at 8lbs, 8oz and 21 inches long. Mom and Maybe are doing great.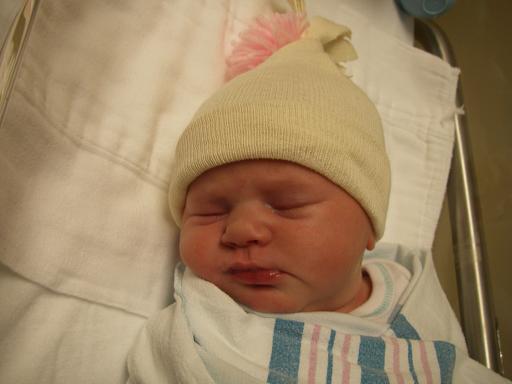 Here are Maybe's older pictures and posts.