January 29, 2015
I am the only one who got exercise on this walk. Sheesh, what a bunch of lazies.


Nina leading me in music. Nothing really to say, it was just cute.


I got new frames for Christmas so I finally put them up with pictures today. My goal is to cover the whole wall. Super easy when I have 4 kids giving me pictures all day everyday. This has to be my favorite wall in the house.


January 28, 2015
Nothing screams "stud" like a Barbie dune racer.


January 27, 2015
He takes his responsibility for driving the shopping cart very seriously.


She came inside on Sunday and couldn't stop talking about how much fun it was that her and dad walked around the yard and she got to kick the soccer ball and how freezing it was. We should probably spend more time with her doing those simple things.
January 22, 2015
I'll bet you can totally guess which pizza is mine and which is Ryan's.



I had an awesome excuse to go to the fabric store last night ALL BY MYSELF and I came out so uninspired. Hopefully I can turn these 3 fabrics into something cute. I should probably get to work seeing as how it's due Saturday. Only slightly related, I had to make Maybe an orange julius after school today because I wouldn't let her come with me. She called me 3 times while I was there.

My first attempt at homemade tortillas today. Needs some work. Also, I now need to come up with a different plan for dinner tonight.

I should really pay more attention to what he is doing. Such a busy body. No marker is safe from him.


January 20, 2015
Lehi Grampa made the kids this awesome, large chalkboard. Hurray for having enough space for multiple kids to draw at the same time which means there's so many less fights and me having to hear the scream that so-and-so erased a picture!


January 19, 2015
Ryan decided Saturday that it had been too long since we had a movie night. So after using it as a bribe to get the kids to help clean the house, we rented Mr. Peabody and Sherman. It was definitly an entertaining movie. Last night when we went to return it Nina was in tears and saying she misses Sherman and Peabody. We'll have to add it to our Christmas lists this year for sure. I love having lots of kids. It makes for an instant party!


I took off Zach's suit vest after church and Ryan was standing right there and we noticed they were unintentional twinners. Not only do they look exactly alike, they dress alike too. I think these are some of the most handsome boys on earth!

January 17, 2015
I've been avoiding Chuck E. Cheese for years, until yesterday. I took the three babies and boy I owe that place an apology for all my years of ill will towards them. Chuck E. Cheese was delightful! It was super clean, bright inside, the employees were helpful and friendly and the pizza was quite delicious. My oldest two are quite perturbed they missed out. Oh well.



Li'l Nate chillin' with his best buddy.


I'm quite certain I have the cutest 15 month old. Yes, quite certain.


January 16, 2015
Occasionally these two sisters actually spend time together without fighting. Occasionally.


January 15, 2015
Li'l Nate's found a new way to chil'ax.


January 13, 2015
I am seriously addicted to this product:


It's totally uneccesary and perhaps too expensive, but it takes folding laundry or snuggling a kid to a whole new level. I just want to breath in the fresh scent that laundry detergent alone is unable to give me. The commercial did not lie.
January 12, 2015
I pondered most of the day about what to have for dinner tonight. I had a lot of ideas, but seeing as how my family is a bunch of "selective" eaters, I didn't want to put too much effort into something that only me and perhaps Maybe would eat. Alas, it was time to leave for swim lessons and I just had a thought that I should throw some chicken in the crock pot so at least I would have some cooked chicken when we got back and I was sure I could come up with something to do with it. Well I did. These chicken tacos were delicious and more importantly super quick.


Chicken Tacos

1 lb chicken

1 cup chicken broth

1/4 cup taco seasoning

Ideally you would put this all together and let it sit for 6 hours or so on low. However, since I decided on a whim to make it, mine sat for perhaps an hour on high (remember, my chicken was already cooked) and it was good so I'm sure letting the chicken soak in the flavors would only make it better. Go ahead. Give this recipe a try and then thank me for it later. (Dear wherever this recipe came from on the internet. I can't find you again so this is the only credit I am able to give you.)
January 10, 2015
Seth is so excited to finally be a Jr. Jazz player. He has been wearing his jersey since his first game last night. He was the first one to show up so he got to pick his jersey and number...0... just what he was hoping for.


I had to buy a new cutting mat since mine was so old it cracked. Oh the things that excite me! And as a bonus my new one is purple instead of grey. I used it to make this little beauty. Sometimes I so wish I could keep all the things I make. This one turned out so cute!




Ryan stayed up with me until after 2:00 AM last night so I wouldn't have to be alone while making this. What a stud!
January 8, 2015
It's swim lesson season at our house.




This one loves the water:


But will have nothing to do with her swim lessons. After two lessons I pulled her out. She was so happy and even told me I could take back her brand new Minnie suit. That's saying a lot. She really really loves that new suit. There is almost nothing more adorable than my 3 year old in her brand new Minnie suit.
January 7, 2015
Reading this recipe doesn't really get me all that excited, but everytime I make it (mostly because it's so dang easy and quick) it's a big hit around here. I don't know where it came from because I only have a picture of it so sorry for not giving credit to the owner.

Cheesy Corn Chowder

1 cup shredded cheddar cheese

2 cans drained corn

2 cans cream corn

1.5 cup cubed cooked ham

2 cans whole new potatoes drained and chopped

3 cups milk

Stir milk into cream corn in a large saucepan. Add ham, corn and potatoes. Heat through, stirring occasionally. Remove from heat. Stir in cheese until melted.


Don't forget, everything tastes better made in a red dutch oven.

January 6, 2015
I've got an itch to create. Now if I could just not feel so crummy for a little bit perhaps I'll get the chance to act on it.

January 5, 2015
Spike is gone! He let me, actually BEGGED me, to cut his hair last night. I was not about to pass up that opportunity. I cut off at least three inches. The downside, he really does have thick, lucious, soft hair and I will miss running my hands through it.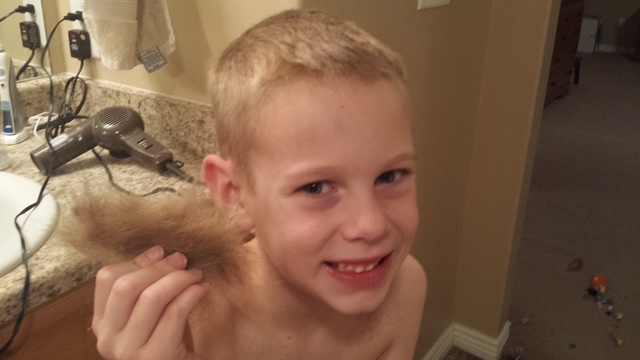 Yesterday he also got an invitation to attend "It's Great To Be 8" next Sunday. This is going to be an amazing year for that kid. Baptism and starting scouts. It really is great to be 8.
January 4, 2015
Zachary gave the scripture in primary today and instead of me or Ryan helping him, Maybe did. They did awesome. It was adorable. I love it when those two decide to get along.

January 3, 2015
So hard to believe! Nina calls them Sunbeeps. You should hear her sing the song.

January 2, 2015
I'm loving my new red dutch oven I got for Christmas. I was so excited to make our favorite chicken noodle soup in it. Tonight I used it to make pork chops, because I could. The older I get, the weirder things I get excited about.

On New Year's Eve we hired a babysitter, went to an early bird dinner with the in-laws, came home and made mini donuts. I know, you're terribly jealous of our awesome photography. We perhaps took 5 pictures that night and this was the best one. Four of us made it to midnight all snuggled in on the love seat. Sweet times.


January 1, 2015
This past week we learned that Li'l Nate knows how to drink from a straw, or, perhaps he's just a super genious and figured it out on his first try.